Motorcycling is exciting. Nothing beats the feeling of traversing open roads while feeling the wind against your face. With this freedom, however, comes the crucial responsibility of ensuring that you will always ride with the right gear at all times. Where motorcycling goes, the first and foremost gear that would come to mind is a helmet. Not just any helmet too. You want to find the safest motorcycle helmet there is.
Data from 2015 reveals that there have been around 1,772 lives that were saved by helmets and 740 people whose lives could not have been lost if they only had a helmet on. Whether your local law requires wearing one or not, it is always necessary to ride with one on. Still, when there are so many choices out there, narrowing down your options to find the best and the safest motorcycle helmets can be a daunting task. To help you make the right choices, we have compiled a guide on how to spot the best helmet to keep you safe in your journeys.
Safest Motorcycle Helmets Type
You'll find a variety of helmet styles out there today. But they can be differentiated into three main categories: the full-face, the ¾ face and the ½ face helmet. If the safest motorcycle helmet is really what you're looking for, you are better off going for the full-face type.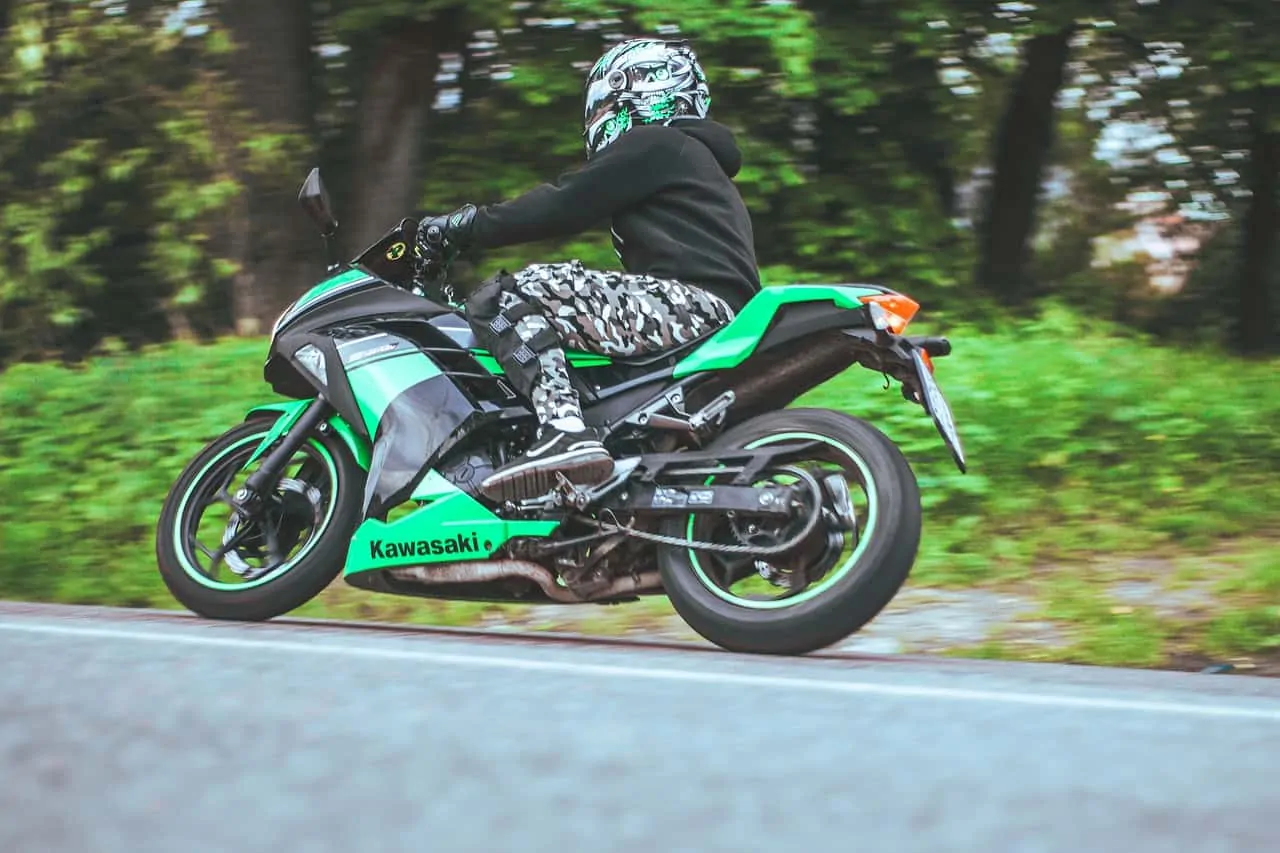 What's good with full face helmets is the full coverage they provide for your neck and your head. It is also effective at protecting you against the elements and the environment. It doesn't matter if it is bugs, debris or even inclement weather. A full face helmet will ensure that you are properly protected from all that. If there is one feature of the full-face helmet that sets it apart from the other types, it is the chin bar.
Other types of helmets do not have it. An Australian study revealed that most of the severe impacts that riders encounter during an accident are to the chin. Out of all the helmets out there, only the full-face type offers the necessary protection to keep your jaw and your chin safe.
Riders are also advised to look for helmets with the shell-built makeup. A critical gear for every avid motorcyclist, it is a rider's foremost line of defense that keeps the head safe so direct contact with the pavement can be avoided. It also needs to have a reinforced composite or thermoplastic polycarbonate. In addition, it needs to have the necessary liner in its interior that is meant to absorb impacts.
The inner liner isn't just there to ensure your comfort when putting the helmet on. It's also there to absorb impact should you figure in a crash. This serves as your next line of defense at keeping your head protected and safe against severe head injuries. Then, there is the chin strap. Always remember that a helmet is only going to be able to do what it is expected to do if it is properly strapped.
The cost involved in purchasing a full-face helmet is usually one topic that warrants a lot of argument among motorcycling enthusiasts. Some people argue whether it is worth it to pay more for the additional safety that the helmet offers. However, it is important to remember that costs do not really have that much relative effect on how safe a helmet is going to be.
What is most important is for a helmet to have secured the approval from the DOT or the Department of Transportation if you're in the US and the European Safety Standard if you're in Europe. Having earned the stamps of approval of these organizations will give you the assurance that these are products that are meant to keep you safe when you have them on.
Typically, the costs of a helmet will generally be driven by the specific materials used in its design and its overall visual appeal.
Motorcycle Helmet Fit
Different helmets from different manufacturers are expected to slightly differ in terms of fit. A certain brand may fit you better than another, depending on your head shape and size. It is always helpful to take the time to read the reviews that other people who have purchased these products before have to say to get an idea of what to expect if and when you do decide to make the purchase.
Sizing is always going to be different from one brand to the next. This is why it always helps to be able to try the piece on before actually making the decision of whether to purchase or not. Current technology in helmet manufacturing involves head gears getting interior liners that are designed to absorb impact and shock should the wearer gets involved in an accident.
These liners are generally made from expanded polystyrene or EPS foam. A lot of people often think that these foams are there merely to ensure comfort to the wearer. While there are some padding that do that particular function, inner liners are aimed towards protecting the wearer's head. In addition, EPS foam should also be added along the lower area of the helmet to make sure that your jaw and your face are duly protected as well.
How a helmet fits is crucial in determining how safe it is going to be. What you need to be concerned with is how well the EPS liner actually fits. A lot of people often focus on the comfort liner, and this shouldn't be. Consider taking the measurements around your head and above your eyebrows.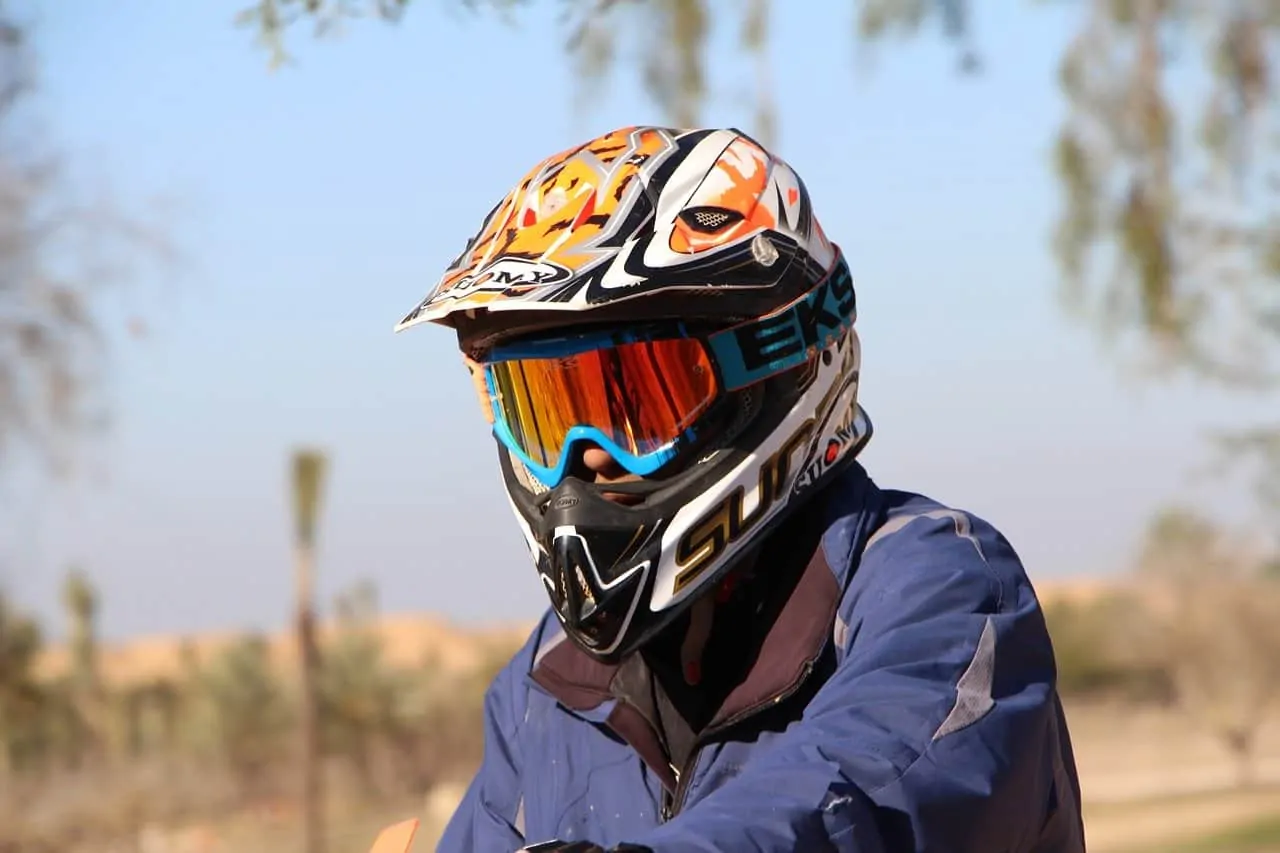 While a lot of people choose to buy helmets online for the sheer convenience of it, nothing still beats buying one the old-fashioned way—actually trying it on to see how well it fits. When trying it on, make sure to adjust the chin strap and have it tightened in a manner where just two fingers can fit between your head and the strap.
Make sure too that the top, side, and back of the head don't have any gaps. However, you must see to it too that it is not going to be too tight that you'd be in pain. Take the time to keep the helmet on for at least five minutes to properly ascertain its fit. Make sure that when you try to get the helmet rotated, your cheeks should move accordingly.
However, if it slips or moves up or down, then it is not the right fit. To test if the chin strap is the right fit, just move your head down so you are looking towards your chest then see if you can push the back of the helmet upward.
Remember that there are also non-safety factors of the helmet that can also make all the difference in how good a choice it will be for you. For instance, how the safety inner feels can impact your overall comfort while wearing the helmet. Naturally, you want the inner liner to be made from fabrics that aren't just effective at protecting your head and neck, but one that is going to feel comfortable as well.
Consider the amount of airflow inside the helmet and make sure to assess how adequate the size of its eye-opening is. You want to consider the sound level you will hear with the helmet on too. This can be a safety consideration since it can affect what you will hear with the helmet on. Wind noise can also damage your hearing, so try to look for helmets that are better proofed against unwanted sounds.
Weight is also another factor to look into as a helmet that is way too heavy can cause severe discomfort when you are on the road. Still, the most crucial factors you must consider are how well the helmet will fit you and if the chin straps will hold the headgear securely on your head.
Top 5 Safest Motorcycle Helmets for 2023
HJC IS-17
If you're looking for the safest motorcycle helmets that pack the best value, this offering from HJC will not disappoint. It offers considerable wearer comfort, courtesy of its drop-down visor that keeps you protected against the sun. It also holds one of the most impressive SHARP ratings, effectively proving its overall safety. It is available in wide varieties of colors and you can even get them in high-visibility versions.
They even come in themes like Star Wars and Iron Man. You also benefit from a Pinlock shield setup which is ideal for adding lenses that will keep the fog at bay— something that you would appreciate considerably if you happen to live in humid settings. This headgear has also been certified by the DOT and has met the EXE REG 22.05 standards. It also boasts of a dual-D ring clasp for the chin standard.
Shoei Qwest
Some people might be put off with the price that Shoei helmets are tagged with. The brand has, after all, since earned a reputation for being a bit on the pricey side. While a steep price isn't always equivalent to the overall safety of a headgear, this is one of those instances where the price is actually well worth the value you are getting out of this impressive headgear.
Having been around for quite some time, the Qwest model has undergone Sharp tests before and has been found out to not only meet its standards but to also have scored some very impressive ratings, especially in terms of impact resistance.
This easily explains why it is fast becoming harder to find this helmet in various online platforms. Supplies are thinning fast due to the impressive reviews the helmet has been getting. But a number of motorcycle gear dealers still carry this particular brand these days. Buyers will also appreciate how the manufacturer took the time to come up with options that are focused on female riders.
Shoei also takes pride in their wind tunnel and distortion-free visor designs that have been tried and tested with the rider's comfort and ease in mind. It is also notable how much focus they have placed towards coming up with features that will protect the user against UVB and UVA rays— which can significantly reduce the lifespan of the helmet's exteriors.
It's important to note that the composite or matrix for this helmet is not made of Kevlar or carbon. Rather, the shell is made of fiberglass. Fiberglass is one of the most common materials used in making helmets these days mainly due to how safe and sturdy a material it is.
The chin straps feature a dual-D ring that is designed to keep the helmet in place at all times. It is also one of the best-rated helmets as far as safety goes these days. It has passed the standards set by Snell M2015 and it has also earned the approval of the DOT.
AGV Veloce (GT or S)
AGV has a wide array of headgears for motorcycling enthusiasts to choose from which have been rated by SHARP. In fact, AGV helmets that have undergone a SHARP testing have scored 4 of 5 stars and higher— that is pretty impressive. The GT and S AGV Veloce, however, easily enjoys a comfortable 5 out of 5 rating. Available in select sizes, it has been in the market for quite some time and even offers select themes and sizes.
Approved by the DOT and ECE REG 22.05 certified, it features a sturdy Double-D ring clasp to keep the chin strap in place. Affordable and stylish, it has since proven to be a very safe option or those people looking for some of the safest motorcycle helmets out there at a great price.
Bell Star
This model has been around for quite some time and is ideal for those looking for a more classic design. Offered in three styles, it comes in Pro, Race and MIPS— all three sharing the same platform shell with even better protection.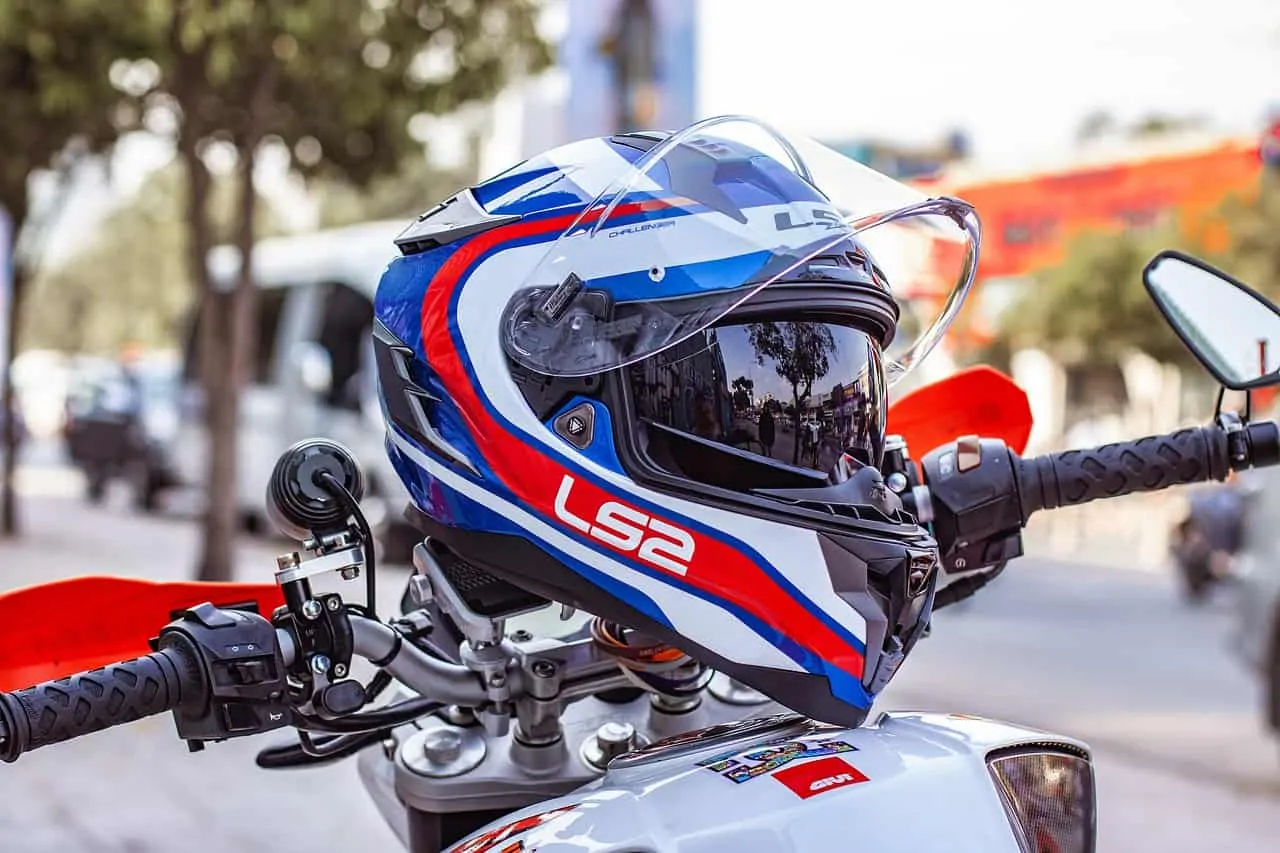 The idea with the MIPS system in which this helmet is based on is that inside the helmet are overlapping layers of protection that will then glide over each other to help minimize any rotational force, preventing it from reaching and damaging your head in the event of an impact.
While tests showcasing that this design works have yet to surface online, it is certainly one feature that will not hurt the overall safety performance of this helmet. Add to that the fact that it has been awarded a 5-star SHARP rating, replete with Snell 2015, ECE 22.05 and a nod from the DOT, you know that this is definitely one of the safest helmets out there today.
Shark Race R Pro/ Carbon
This is an impressive racing helmet that will tick all the boxes in terms of comfort and speed. Showcasing a composite shell made of aramid fiber and carbon, this is one heat and abrasion-resistant headgear that is definitely made to last you for a long time. More importantly, it has been tested by SHARP and has passed their standards with flying colors, especially in terms of resistance to impact.
This headgear also comes with a Double-D clasp for the chin strap. It also features a windshield that is distortion-free, along with a design that has been wind-tunnel tested. Bit these features help amplify the overall safety aspect of the helmet, especially in terms of using it on the track at high speeds.
Final Thoughts
There's no need for you to spend loads of money on getting the safest possible helmet for motorcycling out there. Remember that there are a number of factors that will jack up their prices including the comfort, style, features, and the brand of the headgear. Always remember too that price isn't always going to be equal to quality.
More than the prices, make sure to take note the laboratory tests that these helmets have gone through and the ratings they were scored with to better gauge how well they will perform as far as safety goes. Never make the mistake of buying based on the brand alone as there are plenty of well-known names producing motorcycling helmets out there that may have scored poorly where safety ratings go. At the end of the day, it is the data that will matter most.