Motorcycle gloves are important because they prevent your hands from getting too strained when you ride your motorcycle for hours on end. They also serve to warm your hands as well as provide a protective layer in case you accidentally tip sideways and break your fall with your palm.
How can you tell if your motorcycle gloves are too small and what is the desired snugness? You can say that your motorcycle gloves are too tight if they constrict your hand movements. It's inadvisable to go for gloves that feel uncomfortable when you clench your hands into fists. A tight pair will disable you from having full control over the handlebars. The gloves must fit snugly around your hands. There should't be any excess fabric at the tip of your fingertips.
There are a lot of things you should consider before purchasing your first pair of motorcycle gloves. These factors include the materials, the types of gloves, and the general sizing guide.
Glove Materials
There are different types of materials used to manufacture motorcycle gloves. The most common ones include leather, textile, and a hybrid of the two.
Leather Gloves
Leather gloves have always been a crowd favorite because of its stylishness and durability. Leather lasts for a very long time so it's a worthy investment. This fabric is also comfortable against the skin and will not constrict your hand movements, especially if you got it in the perfect size.
These type of motorcycle gloves tends to be expensive. They also come in waterproof options, albeit limited. They perform well for normal motorcycle riders because of their "broken-in" feel. They also work well with all sorts of weather conditions so you can use them year-round.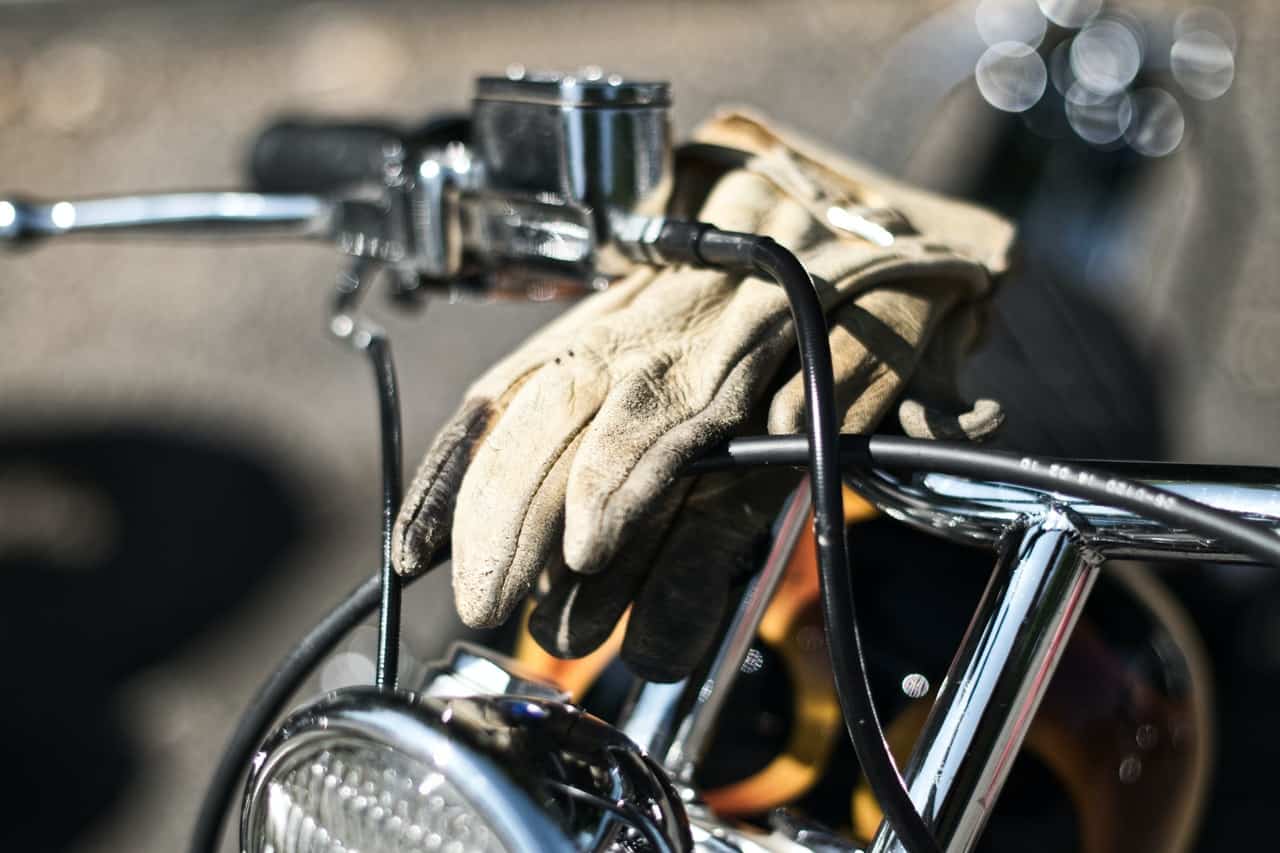 Textile
Textile gloves are very versatile so you can use them for different motorcycle activities, from casual riding to track racing. This is unlikely to stretch over time so it will retain its snug fit from day one.
The main feature of textile gloves is its versatility. You can use it for all sorts of weather conditions.
Hybrid Gloves
This type of motorcycle gloves affords you the best of both worlds. These gloves are made of both leather and textile. It has the characteristic softness of leather while retaining its structural integrity with the textile.
They're also jam-packed with useful features like thermal liners, paddings, and even proper ventilation. Hybrid gloves also come in waterproof options to protect your hands from moisture. These are durable, too.
Types Of Motorcycle Gloves
There is more than just one type of motorcycle gloves. The variety exists to cater to the different needs of different types of motorcycle riders.
Street Gloves
This is the type of gloves for street bikers. These sport short cuffs to boost your comfort level. The entire gloves are often padded for impact protection for the rider. This type comes in leather, textile, and hybrid.
Race Gloves
These gloves are perfect for motorcycle racers or those that go for aggressive motor races. This is on the expensive end because of so many added features. They come in a gauntlet form which means that the cuffs are extended to protect the forearm. There is padding everywhere, from the palms to the knuckles. You can also expect some pinky reinforcements.
Dirt Gloves
Dirt gloves are for dirtbike riding so they aren't sufficiently padded nor reinforced to withstand the hard pavement floor. These gloves are perfect if you need dexterity, lightness, and agility. It doesn't have all the extra bulk that will slow you down. It's great at retaining your grasp at the handlebars and it allows your fingers a lot of movement.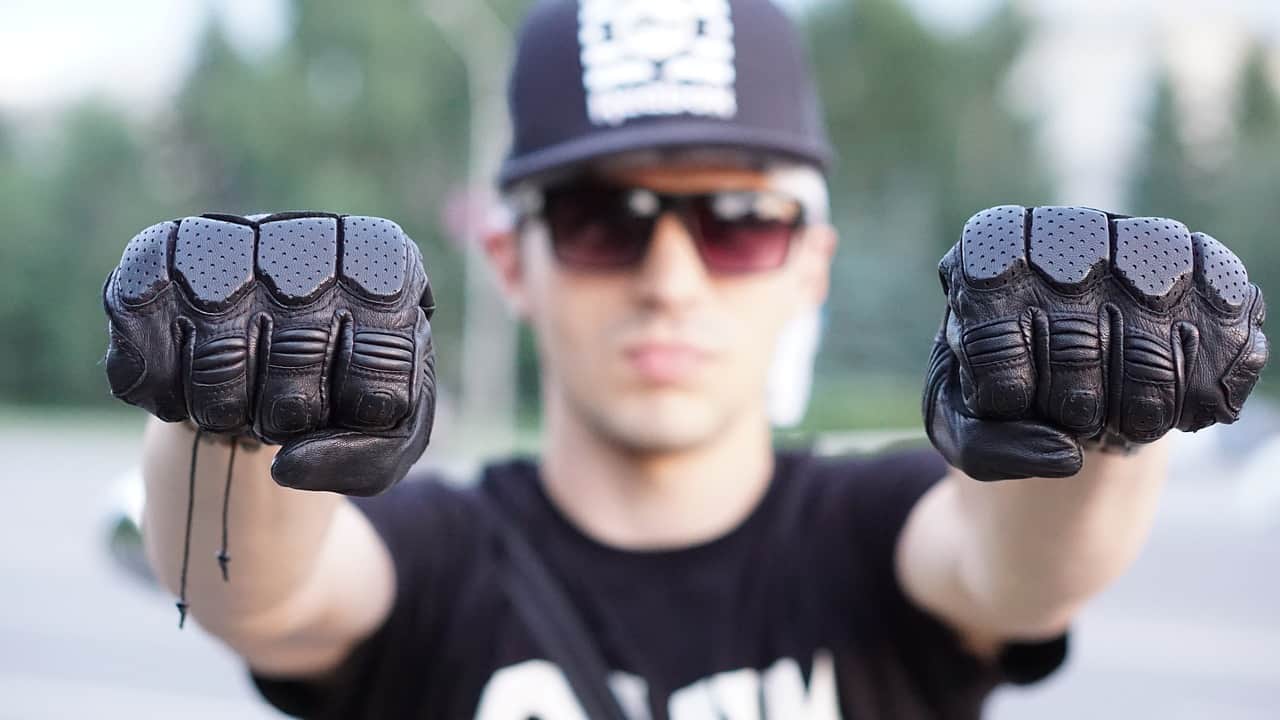 Sizing Guide
With the advent of online shopping, there is a very high chance that you might purchase your motorcycle gloves online. The first thing you should do is to refer to the sizing chart. The sizing charts may vary from brand to brand but most sizing charts for gloves look like this:
| | | |
| --- | --- | --- |
| Numbered Sizing | Standardized Sizing | Palm Measurement |
| 6 | XXS | 6" or 15 cm |
| 7 | XS | 7" or 17.5 cm |
| 8 | S | 8" or 20 cm |
| 9 | M | 9" or 22.5 cm |
| 10 | L | 10" or 25 cm |
| 11 | XL | 11" or 27.5 cm |
| 12 | XXL | 12" or 30 cm |
To take your palm measurement, simply lay your hand flat over a measuring tape and wrap it around your hand, excluding the thumb. Make sure to measure the widest area of the palm which is located just below your knuckles. Keep your hand flat as you do so. For best results, take the measurements of your right hand and left hand and then get the average measurement of the two.
If your hand measurement happens to fall between two sizes, it's recommended to go for the higher size.
Glove Fit
There are two main types of glove fits: American and European. You can determine the fit by simply determining where the motorcycle gloves in question were manufactured. There are differences in the way these gloves fit your hands.
American motorcycle gloves leave room around your palm and your fingers. The length of the fingers tends to run shorter as well.
Conversely, European gloves are perfect for individuals with longer fingers and more slender palms. Choose the fit of your gloves according to the type of hands you have.
Here Are Some of The Best Ones On The Market Today:
| | | |
| --- | --- | --- |
| | Indie Ridge Premium Leather Motorcycle Gloves (Brown) Mobile Touchscreen Full Gauntlet | Check Price |
| | ILM Alloy Steel Knuckle Motorcycle Motorbike Powersports Racing Tactical Paintball Gloves | Check Price |
| | WTACTFUL Touch Screen Motorcycle Full Finger Gloves for Cycling Motorbike | Check Price |
| | AXBXCX Touch Screen Full Finger Gloves for Motorcycles Cycling Motorbike | Check Price |