When looking for kids full face helmets, you wouldn't just want to settle for any random motorcycle helmet you'll find. You want the best there is— especially in terms of the protection and safety they provide. With all the many choices that the market offers, it's important to narrow all of your options first before making a decision.
You won't always have a lot of time to research all your options, get to know them and then make an educated decision. We want to make it easier for you so we have listed our top picks for the best motorcycle helmets for kids out there. It wasn't an easy decision but after some thorough research, we have decided to put our money on WOW Motorcycle Youth Kids Full Face Helmet. A very light headgear, kids can comfortably wear it for extended periods. What's even better is that its weight doesn't distract it from its purpose of providing the wearer with full protection.
Made from highly durable materials, it's quite handy at protecting the head against impacts. It's even designed to keep the cold air away from your face. We also love the UV-protective coating which will help keep the exterior looking all sleek and spiffy even after long hours of riding. In the event that you can't get a hold of this particularly handy protective gem, you can also look into the Typhoon helmets Offroad Gear as it came in effortlessly in second place.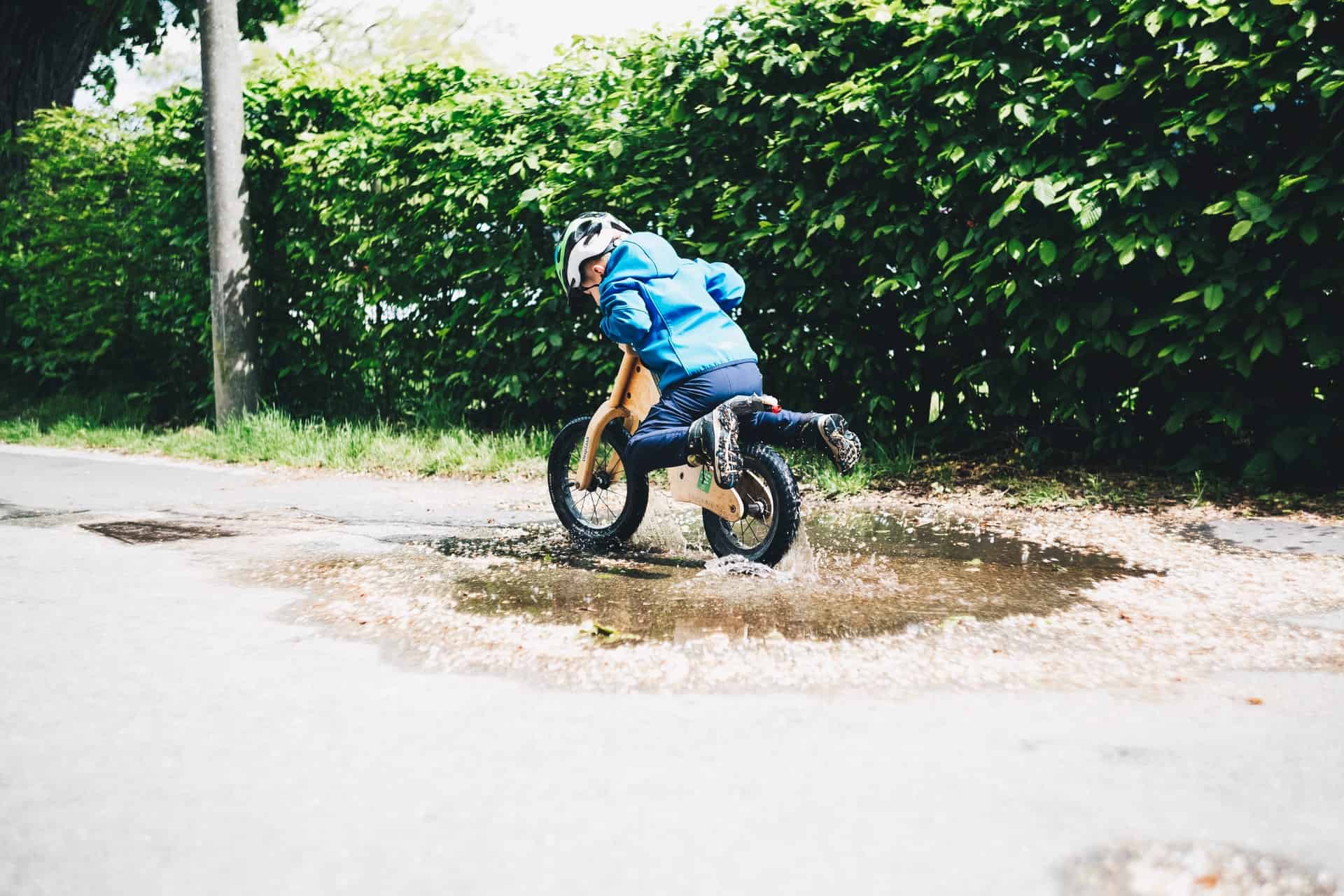 Best Kids Full Face Helmets
There's a vast sea of options out there if what you're looking for are kids full face helmets. That's a good thing in terms of not having to deal with very limited options but the downside is that you'll likely have a hard time narrowing your options down. To help in your decision-making process, we listed our top picks of some of the best products out there that will likely meet your needs and preferences as far as keeping your kid protected goes.
WOW Motorcycle Youth Kids Full Face Helmet
When it comes to kids' helmets, the look is a big deal. Thankfully, this is one helmet line that offers a vast number of choices, especially where graphics and colors go. It doesn't even matter if the wearer is a boy or a girl. This is one helmet that truly looks quite good but also hasn't placed comfort and safety as mere afterthoughts. You'll love how durable and lightweight its construction is, thanks mainly to its shell made of aerodynamic thermoplastic alloy.
It's specifically designed with the goal of not weighing down its young wearer when riding. At the same time, it is made with materials that are sturdy enough to effectively cushion the rider's head in case of impacts. The helmet is designed to effectively and evenly dissipate force during crashes to prevent the head from getting injured. It's DOT-approved to so you can expect that it will not only be reliable but will also provide the wearer with the necessary degree of protection to keep him safe.
This unit is designed to keep the face protected against the wind. Ventilation controls along the front and its top features three channels that will make it easier to adjust airflow inside the helmet so your head gets to remain cool even when wearing the headgear in warm settings while also ensuring that it is warm in winter settings.
PROS
Thanks to the helmet's shell of aerodynamic thermoplastic alloy, you get a very light helmet that is sturdy and durable that kids wouldn't mind wearing for hours.
The UV protective coating is not only pleasing to the eyes but is also effective at keeping the paint protected. This means that you won't have to worry about the exterior colors fading even when having worn the helmet for hundreds of hours under direct sun exposure.
You'll love how easy it is to remove the padding in its interior so washing and cleaning them should be equally easy to do. You wouldn't ever have to worry about the helmet smelling bad after having worn it for some time.
It's currently available in different colors which will make it even more appealing to girls and boys no matter the age.
CONS
The plastic piece holding the visor in place is a bit on the flimsy side and could break easily. If this happens, it will be next to impossible to get the visor flipped up.
The fit tends to lean more towards the small side so it may be better to order the unit a size larger, particularly if the one who will be wearing it is a girl with long hair.
Youth Kids Offroad Gear Combo Helmet Gloves Goggles
Just like how motorcycle jackets need to have specific traits, the same is true for motorcycle helmets. For instance, where motorcycle jackets should be designed to get the body protected against the cold and the wind, helmets need to offer the same amount of protection for your head. This particular helmet happens to tick all the necessary boxes not only in terms of sturdiness, durability and the level of protection it extends to the wearer. On top of that, it also meets the wearer's requirements in terms of comfort.
Weighing less than 3 lbs, younger riders can wear it without having to worry about the fatigue and strain that is usually associated with extended wearing of helmets with the full-face design. This is a DOT-certified model which ensures that wearers will get the highest possible protection with it on their head.
The interior liners can be detached to make way for convenient cleaning and maintenance, the liner is also designed to make the wearer feel comfortable and snug. The makers also provide buyers with a size chart to help them pick the right size and the correct model to fit their kids.
PROS
It's quite evident how Typhoon took the time to consider the needs of the young wearer when designing this particular headgear. The less than 3 lbs weight alone is a good indication that they want to make sure their users won't have to deal with neck strain, especially when they need to wear the helmet for several hours.
This is certified by the DOT. Considering how paramount safety as far as these protective products go, you'll feel confident that they will indeed keep your loved ones safe.
You'll love that they have made the interior lining detachable as this makes for easy and convenient washing and cleaning. This ensures that it will be easy enough for you to freshen up the helmet to keep it looking and smelling clean.
It's also convenient how the makers have provided their buyers with a comprehensive size chart to help serve as their guide in ensuring that they will pick the appropriately-sized helmet for their kids.
CONS
While the helmet comes with such detailed information concerning the available sizes, you'll need to spend a lot of time poring through these details in order to pick the right one.
Some parents might find the interior lining to not be enough and have even opted to put more padding when getting the helmet worn by their kids. However, this all boils down to choosing the correct size so one really has to pay close attention to the sizing chart to choose correctly.
HJC Helmets CL-Y Youth Helmet
If there's one thing you'll notice when checking out reviews for youth motorcycle helmets, it's the presence of a DOT approval. A helmet that has gained the nod from the DOT will always give the assurance that it can be worn on public roads since it will provide the user with the necessary protection in the event of accidents. This offering by HJC is certified by the DOT and is constructed from very light materials.
The outer shell is made of polycarbonate and shouldn't weigh down on the wearer's neck and head so one doesn't have to be concerned about strains and other related problems when wearing the helmet for an extended time. If you love riding in the summer while taking your kids with you, you'll love how your youngster's head will remain cool the entire time, thanks to the cooling system built into this headgear.
The interior is lined with Nylex. Aside from being comfortable for the wearer, this is one material that is easy to maintain, clean and wash since the liner is easily detachable. Any helmet that offers maximum visibility is a good thing and this is what this HJC offering has. You get a large front view to ensure maximum visibility when the helmet is on.
PROS
This is a headgear that is DOT-certified which eliminates any worry from your end on whether it is going to provide the necessary protection to the wearer or not.
Thanks to its polycarbonate outer shell, you can trust that it isn't going to strain your kid's neck or head since it is quite lightweight. Our kids can even wear it for hours on end.
You will love the cooling system which is designed to keep the wearer's head cool and airy, especially on very hot days.
The Nylex in the interior lining can be safely detached whenever there is a need for you to get some cleanup and washing done so maintenance is pretty easy enough to do.
CONS
Since not a lot of kids are used to having a helmet on, especially for extended hours so if they happen to wear earrings and other accessories, you'll need to take them off first before letting them don this headgear. This is to avoid unnecessary discomfort in the process.
Some parents might prefer for this particular helmet to be available in more color and design varieties. Still, at the end of the day, it is just a matter of personal preferences.
Typhoon Helmets Kids Full-Face Motorcycle Helmet
This model was specifically designed and made to fit the size of a kid's head. This makes it different from the usual adult helmets that are just over-padded to make them fit the kids' smaller heads. This offers a much better fit and the fact that it is certified by the DOT will give parents more assurance that this is indeed one helmet that has passed rigorous standards in order to meet the specific safety requirement that these types of protective gears are expected to meet before they are allowed to be used on the road.
With a weight of less than 3 lbs and being a gear that is aimed specifically for younger riders, this is a big deal as it ensures that the wearer can put them on for those very long rides without having to worry about strained necks and heads. The headgear also comes with a flip-up shield made from a single clean lens that allows the user maximum visibility with only very minimal glaring for that unimpeded view of his surroundings when the helmet is on.
The D-ring contraption along the chin straps will ensure that the helmet will remain in place no matter what. Padding on the chin straps ensures comfort as well as to ensure that your specific head shape will be duly molded into the helmet's interior for the snug fit. The unit is available in sizes from Small to Extra Large.
PROS
The interior padding is comfortable. It is also detachable, which allows for easy washing and cleaning— something that will come very handy, especially in summertime.
The eyeport offers a panoramic view, which allows the wearer to enjoy a clearer and unimpeded field of vision. Combine that with a clear lens and your kids will appreciate the overall visibility that the helmet will offer them when wearing them for those long bike rides.
The helmet is weighed at less than 3 lbs, which makes it ideal for younger wearers to wear. The material used is designed to specifically conform to the shape and size of the heads of younger wearers— especially, kids aged 5 and older.
The helmet also comes with exhaust and intake vents which make it possible for air to easily flow inside the headgear. This allows for a cooler and more comfortable interior while also leaving the skin dry during those summer bike rides.
CONS
While the helmet is quite effective at keeping you warm in cold weather, opening the intake vents can cause the face shield to fog up.
It gets tricky too, to get the correct size despite the information that the makers have provided on their product page.
ILM Youth Kids DOT Motorcycle Helmet
If you're looking for a dirt bike headgear, this is one helmet that will offer comfort, quality and protection needed to keep the wearer safe when off-road riding. Its shell is made from quality ABS with interiors that are filled with EPS padding that is high density. Combined together, they not only meet but also exceed the DOT and FMVSS-218 safety standards.
The models come with several air vents— two along the bottom back and three along the front just close to the mouth. The vents are effective at keeping the wearer cool, especially when riding on a bike on warm days. On top of that, they're effective at reducing resistance to wind. The package also comes with goggles that are UV-resistant that effectively protects the face from the wind as well as keep the eyes protected against the sun's harmful radiation.
On top of that, the unit also comes with a sun visor that is built into the headgear but is designed to easily get tucked at the top should you want a better, unhindered field view, you wish to enjoy slow rides or you want to take part in off-road events.
PROS
It's notable how the helmet uses top quality materials both in its interiors and exteriors to ensure that the wearer will feel comfortable while enjoying a nice fit and reliable protection against impacts.
The earpads are easily detachable so removing and attaching them should be easy enough. They offer customizable fit and if you feel that they are a bit too snug or too loose, you can easily ask the sellers to provide you with extra pads of varying sizes.
Included in the package are additional accessories that are meant to make outdoor adventures even more fun. There's also a pair of goggles, designed to be UV-resistant, sports gloves, as well as a bag which is quite handy for carrying the helmet around.
You'll love the quick-release buckle that makes it possible for the wearer to get the helmet to fit snugly. After getting off the bike, you can just easily take the helmet off, thanks to the mechanism.
CONS
The helmet weighs about 4 lbs which makes it a bit heavier compared to other available helmets out there.
The gloves included with the package don't seem to be very durable.
Bell Drop Youth 7106369 Matte Black Helmet
Check Price
This kids full face helmet offers a sleek and smart design, making it ideal for motorcycle and BMX use. It is made of highly durable materials that are designed to keep the wearer comfortable and safe the entire time. It is also ideal to wear when performing stunts, jumps and tricks thanks to its durable ABS shell and soft core that lends to its rather lightweight at only around 2 pounds.
Aimed for riders aged 14 and older, it is ideal for people with about 21 to 28 inches or 54 to 58 cm in circumference. The headgear features a number of large air vents, designed for keeping the head cool in the summer to prevent that sweaty and unpleasant feeling.
The helmet also comes with a Bell protection along with an integrated visor and chin bar that keeps the wearer's face safe in the event of a fall. Moreover, it is equipped with a neck roll and soft cheek pads that really take the helmet comfort to a whole new level for those really long rides.
PROS
The large multiple vents on the helmet's sides and top ensure that there will be proper ventilation and airflow inside to keep the wearer's head comfortable and cool for those long rides on sunny days. It's also effective at preventing overheating.
Buyers will love how affordable this option is with all the features it packs. The protection it provides young wearers when on their skateboard or on their bike is also reassuring.
The built-in visor ensures that the wind is effectively kept off your face for those high-speed rides. It is also effectively designed to ensure that your field of vision will not be limited in the process.
The helmet is lightweight, which younger wearers will appreciate as it prevents straining the neck. The versatile design makes it possible to easily adjust the unit to suit the wearer's specific head size. At the time, it helps keep the wearer safe whether he's riding or performing jumps, tricks, and stunts.
CONS
The product descriptions aren't very reliable since they reflect the wrong size, incorrectly stating that this headgear is designed for wearers who are 8 years old or older.
The padding has some sticky parts that could pull the wearer's hair whenever taking the headgear off.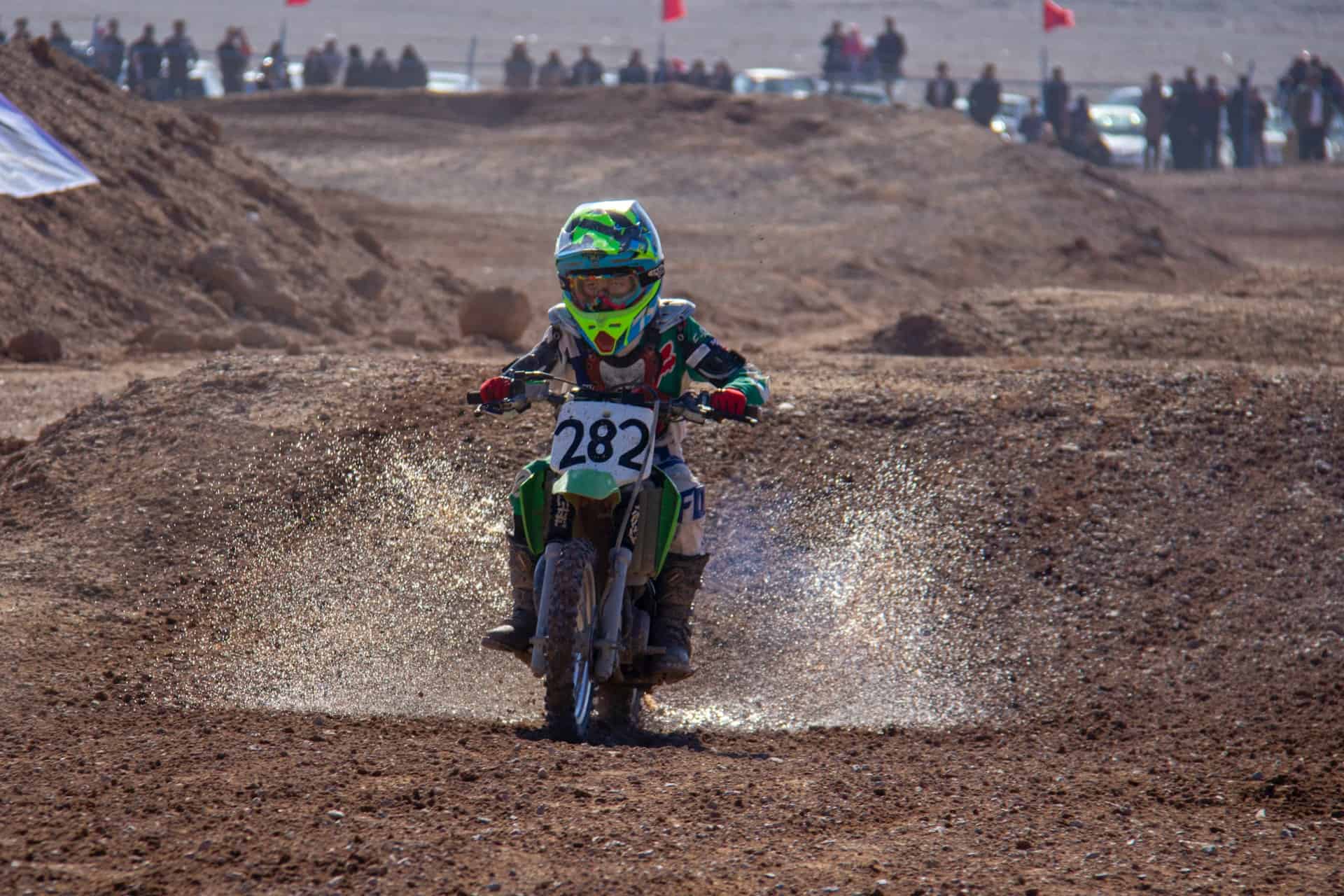 Fox Racing V1 PRzm Youth Motorcycle Helmet
This is a redesigned model banking on its manufacturer's experience with the brand to make sure that it will meet the specific needs of younger professional off-road enthusiasts. Available in a variety of colors and sizes, it is ideal for both boys and girls.
One of the top quality motorcycle helmets these days, it offers reliable protection to the wearer. Approved by the DOT and designed to meet the standards set by the FMVSS-218, this is one reliable helmet in terms of keeping your kids safe while they're engaged in some motorcycling fun outdoors.
The shell is constructed from ABS combined with polycarbonate that has been injection-molded. This delivers a helmet with a comfortable fit that is also lightweight at only 2.8 lbs. It is designed to be light enough to ensure that it will not show its young wearer down. This will make it easy for the youngster to stay on the motorcycle for several hours without having to worry about his head or neck getting strained by the helmet.
PROS
The helmet comes in four sizes which ensures that everyone will get not only the right fit but one that is comfortable that will also deliver maximum protection.
It comes with a Magnetic Visor Release System which is designed to make it possible to take the visor off the helmet should there be an accident.
Ventilation isn't a problem with this particular headgear as it features 4 exhaust and 9 intake vents, all aimed at ensuring the wearer's head remains cool and dry as the vents are effective at removing any excess moisture and even perspiration.
Keeping the helmet's interior clean after those extended rides shouldn't be hard to do, thanks to the detachable cheek pads and liner that allow for easy cleaning and maintenance.
CONS
Despite following the size chart that the makers have included, the helmets seem to be a bit smaller than their corresponding sizes. It may be best to choose one size larger to make sure it will be the right fit.
The rubber located on the headgear's nose guard makes it a bit difficult to effectively wear goggles with the helmet.
Razor Full Face Youth Helmet
If you have kids that are starting to show interest in motorcycle rides, then it may be time for you to consider getting them the proper headgear. Razor's full-face helmet is one of the most popular choices out there and is one ideal option if your child's safety and protection on those motorcycle rides are your priority.
This full-face model comes with extra pads that are easily adjustable to make sure your kid will feel protected and comfortable with it on. The model also comes with 17 vents that ensure proper airflow throughout the interior while keeping the wearer's head cool and dry no matter the weather.
You can even get your kids to wear goggles since the eye port is designed with the right dimensions to allow this. As a CPSC compliant model, you can be assured of its reliability. Made for ages 8-14, it provides kids with ideal protection when on a motorbike.
PROS
The fact that this is a full-face model means that it will offer all-around protection to the wearer. Extra pads are also included in the package to make it easier for the wearer to get the fit adjusted.
Razor has made a name for always putting their user's comfort at the forefront of their designs. This model brilliantly exemplifies that, thanks to the 17 vents aimed at ensuring proper airflow inside.
The eye port is designed to allow for the easy fitting of goggles if the user chooses to wear a pair. It is generously-sized so putting goggles on shouldn't be a problem.
Where safety is concerned, you can trust that this is a fairly reliable headgear to have as it is compliant with the standards set by the CPSC.
CONS
Some people who have tried these helmets before have noted how it could use a little more padding in the interior construction.
It's important to pay attention to the sizing chart too as there have been instances when the helmet came out a bit large.
Buying Guide for Kids' Full Face Helmet
Motorcycle helmets are necessary gears for every biker to have, especially if you intend to take your kids along with you on your motorcycle rides. It's important to get them geared up with the right accessories so they are protected and kept safe at all times. Safety is paramount when riding and the more so for the kids that will be riding along with you. This is why it is reassuring when you see helmets that have actually passed not only certain quality standards but certification requirements by certain bodies and organizations regulating their production.
Understanding Safety Standards
Motorcycle helmets serve a specific purpose—that is to keep the rider safe in the event of impacts caused by accidents. This is why they are designed with safety in mind. Despite the fact that every single one you'll find out there is designed to ensure your safety when on the bike, it's important to remember that not all helmets are created equal. This is why you must still choose the right model by taking a look at the certifications attached to their respective production. If you're a parent, the safety of your kids will always be your main concern. Understanding what helmet certifications mean will help you choose better.
When it comes to absolute safety, motorcycle helmets must meet the CPSC standard. Also known as the Consumer Product Safety Commission, they are the body responsible for the evaluation of the products that are available in the market today —motorcycle helmets included, to establish if they are indeed safe to use.
Another certification that you need to pay close attention to is the one coming from the DOT or the Department of Transportation, they are responsible for ensuring that the protective gear that motorists are wearing can be considered safe for public road use.
The best motorcycle helmets for young riders also need to be compliant with the standards that SNELL has set. This organization is the one in charge of other advanced helmet features. However, if your concern is to get the basics covered, the approval of the DOT and the CPSC should be more than enough. It's also worth noting that when helmets have been tested for various other safety features, they can end up costing a lot more.
Picking the Appropriate Size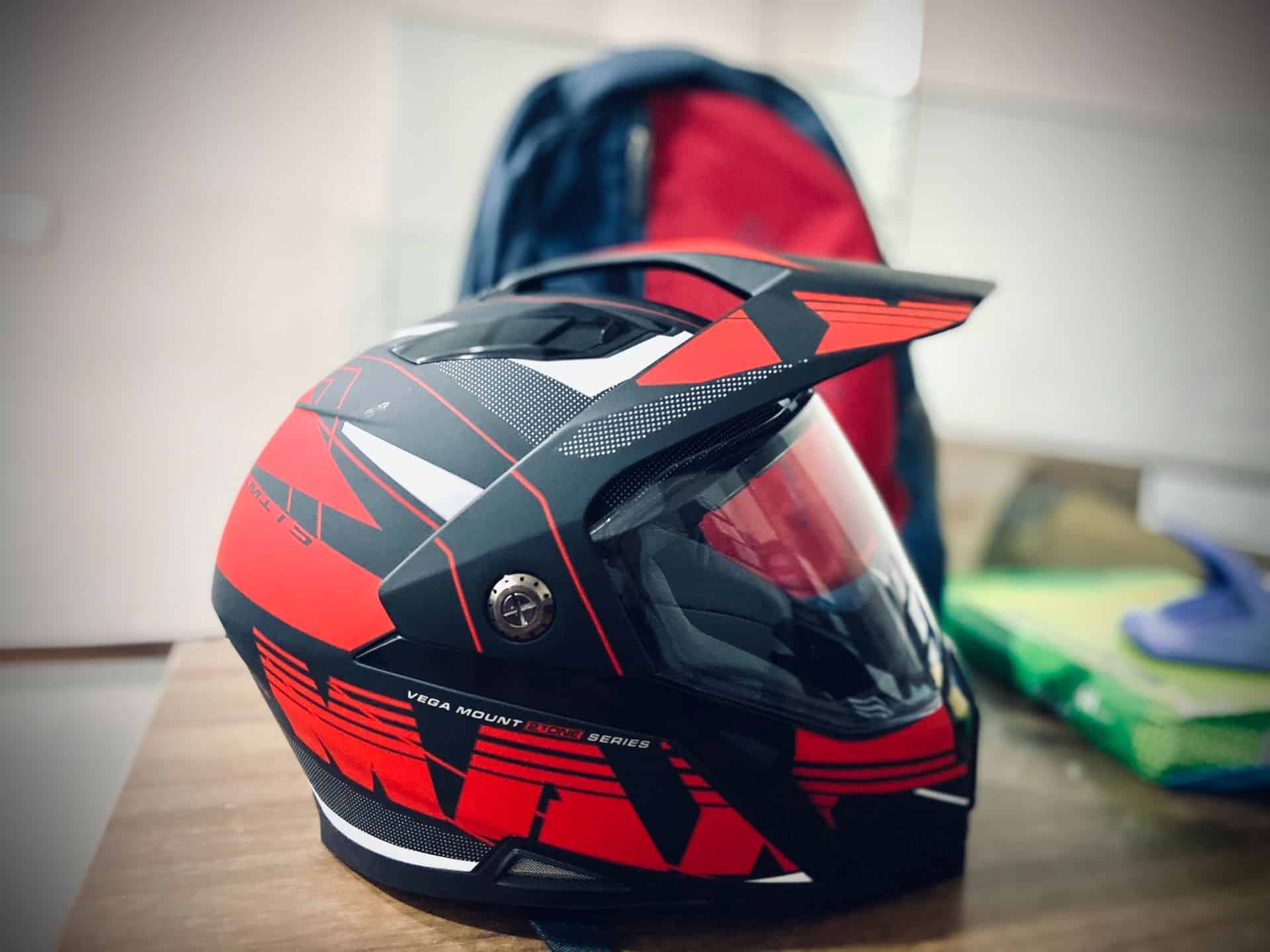 It is generally challenging to find the best helmet that's safe for your kid to use without paying close attention to its size. You'll want to look into the different sizing options that motorcycle helmet makers are offering. This can vary per brand so nothing really beats being able to come to an actual brick and mortar store and have the helmet worn by your kid for proper fit testing.
Some models are ideal for kids between the ages of 8 and 14. But this doesn't automatically mean that the one size fits all option is the best there is. The best way to find the right fit for your kid is to have their head circumference measured first.
You can also look for those models that have extra pads included in the packaging. When a helmet is way too large for your kid, all you have to do is add extra pads inside to allow it to fit better. You have to remember that the right fit shouldn't only take safety into account. You have to consider comfort too and the addition of more pads inside the helmet will generally ensure that. You definitely don't want a helmet that will strain your child's head and neck.
Note that when a helmet is way too large, it might actually become a risk to your safety. Helmets that are too large will likely fall off the head during impacts. This is why you need to pay attention closely to the different sizes that a manufacturer offers and see to it that you get one appropriate for your kid's head size.
Comfortable and Lightweight
While there is no shortage of helmets that are available for kids, you'll find that not every single one is the same. Today, manufacturers are competing against each other in producing the most lightweight helmet that will still extend the same level of protection to the wearer as the heavier ones.
Kids' necks are fragile. They're not that adept at sustaining weight compared to adults. Helmets need to be comfortable and lightweight so kids will not have a hard time wearing them for prolonged periods. The ideal helmet should weigh 3 lbs or less.
The specific material used in making these helmets can also dictate how light and comfortable to wear they are going to be. It's common for kids full face helmets to be made of injected mold plastic. Not only do they satisfy the clamor for a lightweight material but also the necessary protection of the wearer where comfort isn't also compromised. Fiberglass is also an excellent choice as it is commonly used in vehicle manufacture due to how effective it is at withstanding severe impacts.
Aside from using the right material, helmets also need an aerodynamic shape to prevent air resistance issues. Aerodynamic helmets will allow the wearer to easily cut through the air when riding his bike to ensure that there will be no strains or fatigue experienced with the helmet on.
Just like how careful bikers are at picking the right gears and accessories, the same needs to be done with kids who have taken an interest in motorcycles. You have to see to it that you're picking the right thing. Reliable helmets will ensure that your kid will not only get to enjoy motorcycling but at the same time, keep him from harm while doing so.
Comfort Features
Aside from being lightweight, you need to consider various other helmet features that can affect its overall comfort level when worn. For instance, liners inside the helmet are crucial in ensuring that the wearer's head is prevented from rubbing onto the shell. Plush materials are most ideal as liners and more importantly, they should be detachable so washing and maintaining them will be easy enough to do.
The venting system is also another factor to consider. While everyone appreciates a warm helmet, especially in the wintertime, it's definitely not that ideal on a hot summer day. This is where excellent ventilation systems will come in handy so you won't end up overheating underneath.
Helmets must be built in a manner that encourages proper airflow underneath. This ensures that the wearer's head remains comfortable and cool even when the temperature outside is cranked up.
A little extra padding is always welcome. This makes it easier to adjust the tightness of the helmet to ensure that it will be a snug and comfortable fit when worn by your kid.
Other Important Considerations
Several important points must be considered when it comes to youth motorcycle headgear. For instance, it is always best to go for models with a wider eye port so the wearer gets to enjoy proper visibility. See to it that the front opening of the helmet makes it possible for the wearer to put goggles on if he wishes to.
A chinstrap and a removable shield are also very important features that you might want your helmet of choice to have. At the end of the day, it really is just a matter of preference and which safety aspects matter most to you. Also, the more safety features the helmet has, the more expensive it is likely going to be. But considering the safety it offers to the wearer, this is investment well-spent.
Kids' Full Face Helmet Sizing
To ensure that your child will receive the right size helmet, you have to pay attention to the sizing chart. You may be familiar with your size and your measurements but it is different with kids. Consider the following recommendations to help you determine the right size to fit your kid.
Find a string or something malleable that you can wrap around your child's head. This is how you will determine the circumference of your child's head. Locate the widest part of your child's head and pass the string around it. This should be just right above the eyebrow. Take note of the number and write it down.
When referring to the size chart that helmet manufacturers provide, you'll find that the sizes for kids are generally located at the bottom. Remember that S and XS sizes under the adult sizes are not ideal for kids. You have to refer to the kids' sizing to find the right fit.
You'll need to see to it that the size really fits. Look for a model that is available in a variety of sizes. While there are generally approximations, it is never a good idea to assume that the model is the right size. You want to find the exact size as best as you can.
When putting the helmet on to your kid, don't worry if they seem to look a bit too tight. The interiors are packed with soft padding to ensure that the headgear will be comfortable and snug. Paddings are also soft enough to take the shape of the wearer's face and they will feel even more comfortable after your kid has worn the headgear for a time.
For kids with taller head crowns or foreheads, the better option would be helmets that are slightly bigger. The right fit helmet shouldn't be pressing on their crown since this part isn't adjustable and won't loosen over time.
Buying the ideal helmet size is something you need to really take seriously as it is only when the helmet is the proper size of the wearer's head that it can offer the maximum protection it is expected to. Take the time to look around and shop for options before finally making a choice. Also, extra pads are always good to have around as they make it easier to adjust the helmet's fit.
If you have a kid that seems to outgrow things very fast and kids' sizing no longer fits him, a small adult-sized model might be a better option for you. Incredibly, kids tend to grow fast which requires you to look for alternatives that are beyond the usual.